How To Select Curtains For Your Windows
What's the difference between a swag, valance and other curtain "words" ?
 Ever wonder what is the difference between a swag and a valance, or a sheer curtain and a semi-sheer?
Below I will try to explain the difference in some of the more common curtain terminology.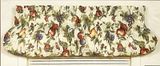 Balloon Valances - A valance with a fabric sewn in a tubular form. The pocket can be stuffed with tissue paper etc. providing a pouf look.

Cafe curtains - A window treatment that covers only the bottom half of a window. A cafe rod is most ofter hung at the halfway point of a window.

Curtain Panels - Curtain panels are usually unlined. A curtain panel is a panel of hemmed fabric that is hung from a rod from the top of the window. It can be floor length or end at or below window sill.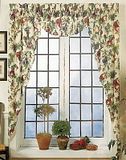 Jabots - Narrow fabric sidepieces. Jabots can be tailored, pleated or ruffled. A valance between jabots can be straight or crescent shaped. (A 3 piece jabot set would include 2 side pieces and 1 center valance.)

Priscillas - Rod pocket curtains with an attached ruffled edge along the bottom and inside edges.

Rod Pocket Drapes - Assorted lengths, usually formal, drapery panels shirred along a pole or rod and often tied back.

Sheers - A drapery panel made of sheer or translucent fabric, Can be used alone or used underneath an outer drapery.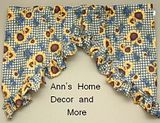 Swags- Long sidepieces that hang from the top of the window. Can be used alone or combined with tiers or panels. Swags can be all one piece with a small attached valance in center or two seperate long sidepieces.

Tab top drapes - Panels designed to hang by looping fabric "tabs" at the top of the drape over decorative rods.

Tie top curtains - Curtains with fabric loops, tabs at the top edge or "header". They are threaded through poles or rods.

Tab top curtains - can be constructed with less fullness than tape headed curtains saving on the amount of fabric required.


Tier and valance set - usually include 2 tiers and one valance.

Tier and swag set - usually include 2 tiers and a swag.


Tiers - Fabric panels that cover the bottom half of a window. They can be ruffled or tailored.

 
Valances - Decorative fabric top treatment used alone or with other window treatments such as tiers, panels or mini blinds.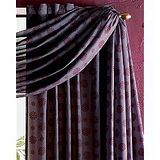 Window Scarf - Rectangular fabric panel that can be draped over a decorative rod or scarf holder.
What should I use to hang the curtains on? 
Well, Let's start by explaining the different words associated with hanging curtains.
Cafe rod - A small, round decorative rod which comes in white, brass, or woodgrain finish, used to mount café curtains that do not have a rod pocket. Café rods are meant to be seen and add an additional decorative touch to the curtain treatment.

Combination rod - combine multiple rods on one bracket.

Continental rod - A flat rod designed to fit a 2½" rod pocket.

Conventional rod - Is usually used for items with a 1½" rod pocket. A clear rod can be used instead of a conventional rod if your window coverings are lightweight sheer or lace, and you don't want the rod to show through.

End bracket - The two supporting metal grips which hold a drapery rod to the wall or ceiling and control the amount of projection.

Finials - Finials are the decorative fixing at the end of the poles. They come in all sorts of shapes and sizes, some simple, some complex, from the traditional fleur de lys, and arrowhead to the fruity pomegranate and pineapple, and back to nature with acorns, scallop shells, along with the simple colonial turned wood balls.

Pin on hook - A metal pin to fasten draperies to a rod; it pins into drapery pleat and hooks to traverse carrier or café rod.

Poles or Rods - Poles or rods are available in many different materials - timber, brass, wrought iron, bamboo, powder coated steel, and painted timber. They sometimes have coordinating rings that fix to the hooks on the heading of the curtains. Curtain Rods or Poles are a simple and effective way to add decoration to your windows.

Sash rod - A small rod, either decorative or plain, usually mounted inside a window frame on the sash.

Sconces - are used to hold scarves and are typically mounted just outside your window. A scarf is threaded through the holes within the sconce and draped decoratively.

Tension rod - A simpler style of rod is a tension rod which gets positioned between the window frame, and is held there by a spring tension system.

Wooden pole rods - Wooden pole rods are available in different diameters and lengths.
Which curtain rod should I use with my curtains? 
Most curtains and window treatments require only one curtain rod.

To achieve a particular look or appearance, some curtains and window treatments may
require using a double curtain rod set up.

The type of curtain rod you need may be one of a few different kinds...

The information below should help you decide which curtain rod or pole you should use with the curtains you decide on.

Curtains and Window Treatments made with a Standard Size Rod Pocket, either 1 1/4 inch or 1 1/2 inch Rod Pocket - Requires the use of a standard size aluminum - metal curtain rod, or a 3/4 inch
decorative iron, metal or wood rod. These are the most commonly used curtain rods. These curtain rods are approximately 3/4 inch wide and are sold in most department stores. Just make sure the rod or dowel is 3/4 inch in diameter or less. This can
apply to some 3 Piece Curtain Sets, Tiers, Valances, Swags, Ruffled Priscilla's, and Panel Curtains.
Different ways to hang a window scarf. 
The key to hanging a window scarf is to have fun with it. Experiment with it. There is no right or wrong way to hang a window scarf. Use a window scarf to decorate to your personal taste.


1) SINGLE SWAG WITH UNEVEN SIDES AND A PUDDLE.


2) DOUBLE SWAG WITH EVEN SIDES.


3) UNEVEN SIDES WITH A LOOPED EFFECT.


4) EVEN SIDES WITH A LAYERED DOUBLE SWAG.


5) LAYERED AND CRISSCROSS.


6) MULTIPLE SCARVES WITH A SIDE BRAID.


7) MULTIPLE SCARVES WITH A TOP BRAID.


8) SINGLE BISHOP SLEEVE.


9) DOUBLE BISHOP SLEEVE.


10) WINDOW SCARF WITH SCONCES.